We started in 1984, constructing over 200 homes and villas with highest quality of standard. Then moved to high rise and commercial buldings. After a while we saw that the construction industry in Pakistan was lacking in many ways. From contractor issues to mismanagement. We decided to start 'Easy Construction' which provides complete Design Build Solutions. It is a method to deliver a project in which the design and construction services are contracted by a single entity. Design–build solution relies on a single point of responsibility contract and is used to minimize risks for the project owner and to reduce the delivery schedule by overlapping the design phase and construction phase of a project.
In the near future, we plan to provide complete training and classes on how Design–build solutions work.
Owner Training
Educational programs to teach practical strategies and techniques for the effective implementation of Design-Build Best practices for owners.
Design-Builder Training
Offers contractors with Design-Build best practices training, programs, and tools to maximize your success.
Design-Build / Key Subcontractor Training
Training for subcontractors in understanding how to integrate into the Design-Build team, and maximize their contribution to the project's success.
Project Development Training
Allows contractors understanding in development techniques related to design build solutions.
Construction Management Training
Training for effective construction management designed for managers.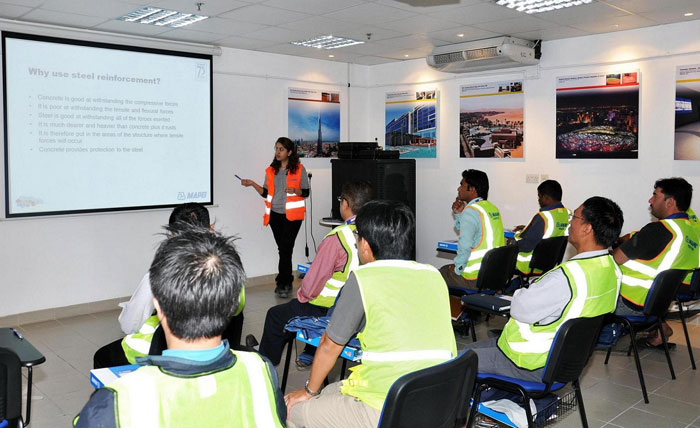 ---
ON REQUEST SERVICES
Supervision Only:
We provide supervision only service for specific tasks for a fixed fee.
Arbitration:
With the deep insight and years of experience in construction, we can act as an independent arbitrator between you and contractors/ suppliers.
Training and Development:
We also provide training to people who are interested in making a career in construction industry.
Architect:
The client can select architect from our panel of architects according to their profile and cost.
Earthworks:
Depending upon the amount of soil to be removed, we provide two different services:
Machine Excavation is performed through use of Earth Moving Machines. These are the tools which are operated by mechanical force and are used for the larger depths of excavation.
Manual Excavation is performed using hand tools. It is best suited for smaller depths of excavations in small areas.
Construction Workers:
We have a long relationship with local construction workers who are honest and reliable. We provide incentives to our workers so that they can complete tasks timely while achieving the perfect finish.
Building Materials:
Very often, when a buyer purchases building material from open market, he gets taken advantage of due to his inexperience either by getting low quality products delivered to him than the one ordered or less quantity than ordered. We have direct link with the building materials manufacturers who can offer you products at discount prices. We understand the variety and quality of all materials. We have categorized materials into A, B and C category for your inconvenience. Our clients can rest assured that they will only pay the fair price for the exact quantity and quality of the product they order.
Please note that inflation can drive the prices up. If the order invoice is paid in full then client will not be affected by inflation. However, if prices inflation increases more than 10% of the invoice price and the order invoice is paid in installment then the client will be liable to pay the difference.
Soil Test Contractors:
Soil tests for construction of building or any structure is the first step in construction planning to understand the suitability of soil for proposed construction work.
Shuttering Contractors:
Timber & Plywood Formwork
Steel Formwork
Steel Fixing Contractors
Concrete & Pouring Contractors:
Mixer Machines
Concrete Plant
Concrete Pump
Electrical Contractors
Plumbing Contractors
Gas Contractors
Marble & Tile Contractors
Swimming Pool Contractors
Khaprail Contractors
Glass & Aluminum Contractors
Tube well Contractors
Lift & Escalator Contractors
Painting Contractors
Grinding Contractors
Bathroom & Sanitary Fittings Suppliers
Electrical Fittings Suppliers
Wood & Timber Suppliers
False Ceiling Contractors
Wooden Floor Contractors
Wood Polish Contractors
Wallpaper Contractors
Air Conditioning Contractors
Security Systems Contractors